Details
Details
ECUsim™ 2000 is a small, lightweight, entry level OBD simulator that is an indispensable tool for OBD hardware and software development and testing.It supports all legislated OBD-II protocols, fixed and user adjustable parameter IDs (PIDs), diagnostic trouble codes (DTCs), freeze frames, VIN, and many other SAE J1979 services.

The unit has five knobs assigned to common PIDs, a "fault event" button, and indicator lights for power, connection, and MIL (Malfunction Indicator Light). Physical connection with the device under test is made through a standard SAE J1962 female connector.

ECUsim 2000 features a USB connection which can be used with the ECUsim Commander software to create custom ECUs or modify existing ECUs.

The simulator can be purchased with any combination of "unlocked" OBD-II protocols, from as few as one to as many as five. Attempting to switch to a protocol that has not been unlocked will produce a "PROTOCOL LOCKED" message.

The 2000 is available in 3 editions (Standard, Professional, and Ultimate) which offer varying levels of user control. The Professional & Ultimate editions feature over 40 software commands that provide complete administration of the simulator using ECUsim Commander, and allow you to create custom ECUs, add/delete DTCs and freeze frames, create PIDs, and dynamically assign their values.
Key Features
Functional and physical addressing
Each PIM supports 3 virtual ECUs: ECM, TCM, and ABS
Five knobs assigned to frequently used PIDs:

Coolant Temperature
Engine Speed (RPM)
Vehicle Speed
Oxygen Sensor Voltage
Mass Airflow (MAF)

Supported SAE J1979 modes: 1, 2, 3, 4, 7, 9, and A.
"MIL", "Link" and "Power" indicators
"FAULT" button
USB connection for configuration, control, and bus monitoring
On-the-fly OBD protocol switching
Standard J1962F connector
Firmware upgradeable
Custom ECUs*
Custom PIDs*
Custom DTCs*
Custom freeze frames*
User settable VIN & CAL ID
Send OBD messages under software control
Knobs assignable to PIDs**
Signal generator (sine, triangle, square, random)**
Custom request/response pairs**
* The number of dynamic objects is only limited by available RAM and is dependent on edition purchased
** Planned functionality, not currently available

Typical Standalone Configuration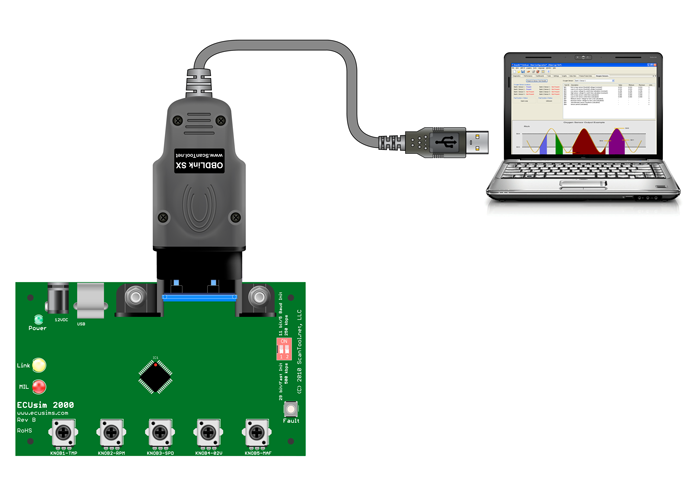 In the above example, ECUsim 2000 simulates a vehicle's ECU. OBDLink SX is the chosen interface between ECUsim 2000 and a laptop running OBD-II software.
User Interface Diagram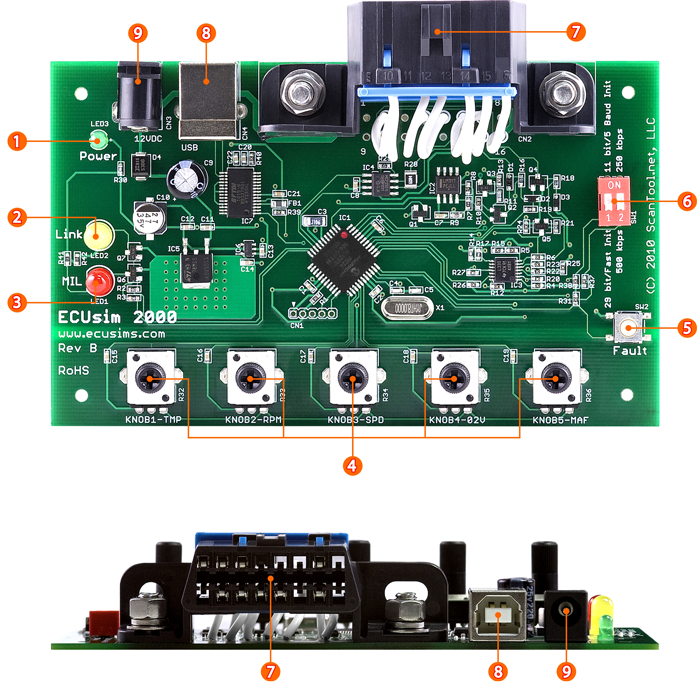 Power LED
Link LED
The function of this LED depends on the protocol in use:
a. ISO 9141-2 and ISO 14230-4 protocols: the LED is on while at least one ECU is initialized. The LED dims when an OBD message is received.
b. J1850 and CAN protocols: the LED blinks when an OBD message is received.
Malfunction Indicator Light
Knobs assigned to the five commonly used Mode 1 PIDs.
Fault button
When pressed, the following happens:
a. Set MIL and number of stored DTCs (Mode 1, PID 01)
b. Generate pending, stored, and permanent* DTCs
c. Generate freeze frame data
Configuration DIP switch has two switches that set protocol attributes for ISO 15765-4 (CAN). Switch number 1 is also used to select the init type for ISO 14230-4:
a. 29 bit/11 bit. Selects CAN frame ID type.
b. 500 kbps/250 kbps. Selects CAN baud rate.
c. Fast Init/5 Baud Init. Selects the type of initialization for ISO 14230-4.
Diagnostic Link Connector (DLC)
USB connector
Power jack (12 VDC)
* SAE J1979 defines permanent DTCs only for ISO 15765-4 (CAN)
Specifications
Additional Info
DEVICE WEIGHT
2.6 oz (73.7 g)
DIMENSIONS
5.0 x 3.5 x 1.12 in (127 x 87.4 x 28.4 mm)
OPERATING TEMPERATURE
-4° to 131°F (-40° to 85°C)
PACKAGE CONTENTS

ECUsim™ 2000 OBD simulator unit
110/220 VAC to 12 VDC switching power supply
US style power cable
USB cable


WARRANTY
ECUsim™ 2000 comes with 1 year parts & labor warranty.
Protocols
Support for all legislated OBD-II protocols:

SAE J1850 PWM (Ford)
SAE J1850 VPW (GM)
ISO 9141-2 (Asian, European, Chrysler)
ISO 14230-4 (Keyword Protocol 2000)
ISO 15765-4 (CAN 250/500 kbps, 11/29 bit)
Compare
ECUsim™ 2000 Editions Comparison Chart
The ECUsim 2000 is offered in 3 firmware editions: Standard, Professional, and Ultimate. For more information about the features listed, please consult the ECUsim 2000 Programming Manual.
| | Standard | Professional | Ultimate |
| --- | --- | --- | --- |
| Supports all OBD-II protocols1 | | | |
| Functional and physical addressing | | | |
| Default ECUs: ECM, TCM, ABS | | | |
| Supports SAE J1979 modes 1, 2, 3, 4, 7, 9, A | | | |
| USB connection | | | |
| Software selectable protocol | | | |
| Firmware updates | | | |
| Custom ECUs* | | | |
| Custom PIDs* | | | |
| Custom DTCs* | | | |
| Custom freeze frames* | | | |
| User settable VIN & CAL ID | | | |
| Send OBD messages under software control | | | |
| Knobs assignable to PIDs2 | | | |
| Signal generator (sine, triangle, square, random)2 | | | |
| Custom request/response pairs2 | | | |
| No limitations on future functionality | | | |
| Cost | Included | +$300.00 | +$600.00 |
| | |
| --- | --- |
| 1 | ECUsim 2000 can be purchased with any combination of the following protocols: J1850 PWM, J1850 VPW, ISO 9141, ISO 14230 (KWP), and ISO 15765 (CAN) |
| 2 | Planned functionality; not currently available |
| * | The number of dynamic objects is limited by available RAM |
DocumentationApps & FirmwareSupportRelated Items
Reviews