Details
Details
OBDLink™ SX quickly and accurately diagnoses engine problems and accesses performance parameters for all OBD-II compliant vehicles (except hybrid or electric vehicles). Use the free OBDwiz software on any Windows laptop, netbook, or PC and you have a sophisticated, easy-to-use diagnostic system — for a small fraction of the cost of comparable standalone units!

OBDwiz, included with OBDLink SX, allows you to:
Turn off the check engine light, and erase stored diagnostic information
Read and erase stored, pending, and permanent trouble codes (both generic and manufacturer-specific)
Access freeze frame information
Display, graph, and log 90+ real-time parameters
Create custom digital dashboards
Measure and display fuel economy
And much more!
Premium diagnostic software, such as ScanXL and ScanMaster, offers a myriad of additional features including Dynometer, multi-language support, and data manipulation tools. ScanXL's Enhanced Diagnostics Add-ons offer support for thousands of enhanced manufacturer-specific parameters, as well as ABS and other proprietary systems.
Key Features
Plug-and-play design
Maximum vehicle coverage (Verify your vehicle is OBD-II compliant)
Fastest USB OBD adapter
More 3rd party software options
Free firmware updates
Smart, keep-alive algorithm
Large CAN memory buffer
Specifications
Additional Info
INTERFACE
USB Port
DIMENSIONS
3.5" L x 1.75" W (89 x 45 mm)
WEIGHT (lb)
0.2094
SUPPORTS ALL OBD-II PROTOCOLS
Yes
SUPPORTS SINGLE-WIRE CAN (GMLAN)
No
SUPPORTS FORD MEDIUM-SPEED CAN (MS-CAN)
No
USB SPECIFICATIONS

USB 2.0
Compatible with Windows XP or higher

OPERATING CURRENT
8 mA
BATTERYSAVER™ MODE
< 1 mA
OPERATING VOLTAGE
8-18V DC
OPERATING TEMPERATURE
-4º to 131º F (-20º to 55º C)
OPERATING HUMIDITY
10 to 85% (non-condensing)
MAXIMUM PARAMETER ID (PID) RATE
~200 PIDs/second
PACKAGE CONTENTS
WARRANTY
OBDLink™ SX comes with an unconditional 90-day money-back guarantee, and a 3 year warranty.


Protocols
Supported Protocols
Legislated OBD-II protocols:

ISO 15765-4 (CAN)
ISO 14230-4 (Keyword Protocol 2000)
ISO 9141-2 (Asian, European, Chrysler vehicles)
J1850 VPW (GM vehicles)
J1850 PWM (Ford vehicles)
Devices
Windows
PCs, Laptops, Tablets, & Netbooks (Windows XP SP2 and newer) with USB connection
Android*
Smartphones & Tablets (Android 3.1 and newer)
Apple/iOS
*Device must be using Android 3.1 or higher and support USB host mode. A USB OTG ("On the Go") cable is required to connect OBDLink SX (not included with purchase). Before purchasing SX for use with an Android, make sure phone or tablet meets these requirements.
Compare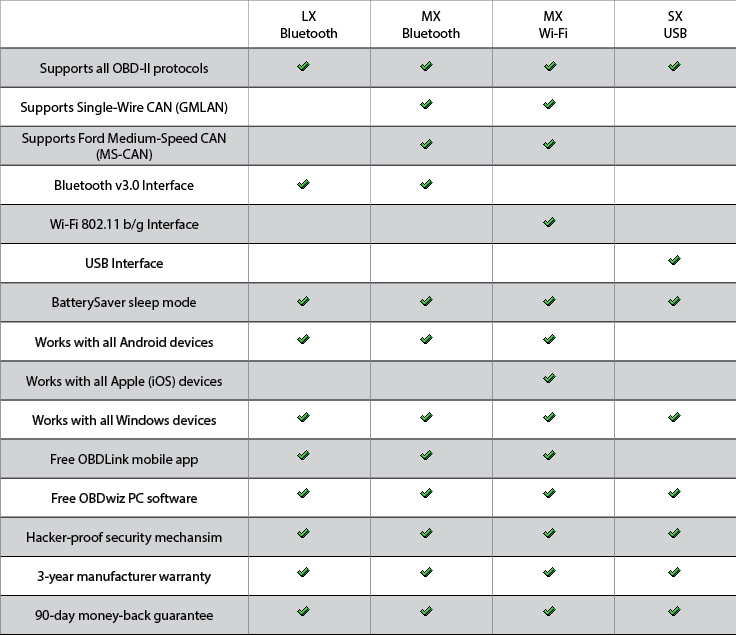 Documentation
Apps & Firmware
Support
Techinical support is offered through our Coummunity Forum which is monitored by ScanTool.net Team Engineers:
OBDLink SX board
.
Visit
OBDLink.com
for advanced support and recommended software.
Related Items
Reviews
Customer Reviews (25)
Nice but doesn't allow full use of GM add on

Review by

Serious DIY

Works great, but doesn't support SW (single wire) CAN which is needed to connect to my restraints control module on my 2009 GM vehicle. You need ObdLink MX to do this is what I found by reading the forums. (Posted on 1/30/2015)

OBD Link SX Scan Tool

Review by

Neal

This OBD scan tool works great with myt 2005 GMC 2500HD pickup. Haven't tried it with other vehicles yet. I purchased the Enhanced GM Diagnostics and am very happy with the hardware and software. Highly recommend this tool...especially now that they dropped the price $20. (Posted on 11/3/2014)

Very good tool, need PC and does not connect to Honda Odyssey.3

Review by

Raymond

Have the ODBLInk SX USB and it gives a lot of good information and logging ability.

This is expected, it is a bit bulky to use due to PC requirement. You can try and get it on android, not sure how that works.

Tried it on Honda Odyssey 2008, and 2009 and was not able to fit it. Either the pin on this device is too big or ODB II connector on the Honda had holes too small.

Does Scantool have a version with smaller/thinner ODB II pins ? (Posted on 10/23/2014)

good tool

Review by

douglas

loads of data and usefull real time diagnostics when driving, i e i took a 10 min; ( checked when i had stopped ) to see what data and fuel my car was using got some real interesting results . well pleased with this tool.. (Posted on 2/24/2014)

very happy so far

Review by

-mes

very impress - compare to my hand scan tool, like the logging and real time data and data run storage wow
--- Jan 10, 2014 8:17:38 PM (Posted on 1/10/2014)

Awesome

Review by

Sam

It took about about 10 minutes total to install and read clear the codes We'll keep an eye on the codes and troubleshoot if the come back. Great tool
Aug 21, 2013 6:26:23 PM (Posted on 8/21/2013)

solved my suby problem

Review by

Brian_j

This tool and software helped me to identify and resolve faulty fuel/air sensor on my 2003 outback.
I highly recommend it for the do it yourself mechanic.
-- Aug 12, 2013 4:14:21 PM (Posted on 8/12/2013)

Excellent tool

Review by

Vladimir

It works with Android ICS smartphones via OTG cable.
Jun 27, 2013 5:06:04 AM (Posted on 6/26/2013)

Excellent Product

Review by

KXcam22

Wow this thing works great. 1999 Acura TL connected first try and amazed what I could see. Software installed Win7 perfectly. It is so good I think I will buy the top software for it.
-- Apr 17, 2013 7:07:30 PM (Posted on 4/17/2013)

OBDlink SX

Review by

Legacy Man

I was very impressed with this scan tool. Compared to the handheld scan tools that cost four times as much, this tool will give you multiple codes. The handheld devices only give you one at a time. It makes it difficult when you repair something then a different code shows up right after. For the price you can't beat it.
Sep 17, 2012 2:11:25 PM (Posted on 9/17/2012)

excellent

Review by

mike

Best $50 I ever spent. It was up and running in 5 minutes. Connected straight away to my wife's Santa Fe. My old unit couldn't do it. Great value for the money.
-- Sep 11, 2012 12:59:13 PM
(Posted on 9/11/2012)

Ford Software Add-on

Review by

Bert Ruedisueli

Very good service I bought a OBDlink SX and software ScanXL Standard with Ford Enhanced Diagnostics Add-on. Unfortunately, the Ford Enhanced Diagnostics Add-on didn't work since my vehicle was European. After a few emails I got my money back for the Ford Enhanced Diagnostics Add-on. Super service and super fast delivery to the Netherlands.
--Sep 10, 2012 1:17:09 PM




(Posted on 9/10/2012)

Great Product!

Review by

Drake2x

I was able to quickly and easily get the codes that were plaguing me. And nice links to the fixes as well. Good Job!
(August 6, 2012) (Posted on 8/6/2012)

Very Good!

Review by

Gray Rider [Amazon Review]

Needed an OBD data reader to determine if any fault code to explain random engine shut down when driving my 2002 Chrysler Sebring 2.7L V6. Think that a software-based tool is superior to a hand-held, as program can be updated, and available data not limited to the size of RAM/storage in a hand-held. Installed drivers from enclosed CD, but could only install program from web - which is probably better since I now have newest version available. Was also worried that Chrysler refers to OBD III data tool in their repair literature, and this item is only an OBD II type - but found OBDWiz gave me sufficient information. Also found that selecting type/speed of communication connection manually enabled me to choose the setting which provided the most data output - the auto-connect selection seemed to just give RPM data. With correct selection, tons of info available, and especially gave me fault code (P0340.) Note that OBDWiz and website gives you only generic info (i.e.: "No Cam Signal At PCM"), but no vehicle specific solution to the problem - just the generic manufacturer fault code description above. Thus, I will use the above info in conjunction with my paid subscription to AllDataDIY.com, which gives me actual instructions for testing, removing, and replacing the Camshaft Postion Sensor and related circuits. Nonetheless, the OBDWiz program and data cable provided exactly what I need and worked fine. Beats paying Chrysler or a garage $ 100 to $150 for just the fault code diagnosis, and probably another $200 or more to replace a $40 part which should take me 5 minutes to remove and re-install.
-- July 8, 2012 (Posted on 7/11/2012)

User Rating

Review by

Big Daddy [Amazon Review]

After purchasing this tool, I compared it to my standard ODB II hand held scanner with much success. Not only does it have all of the functions of the moderately to expensive hand held scanners found in most auto parts stores, it also allows for live date collection at a fraction of the price. Having a laptop or equivalent is necessary when using the SX SCAN Tool, allowing for data collection and storage. I was able to view live parameters and see real time changes other scanners can't see.
-- March 1, 2011 (Posted on 7/11/2012)

OBDWiz

Review by

John H Mason [Amazon Review]

I have to state that I am extremely pleased and surprised how well this device worked out of the box. I'm not a mechanic and cannot rate this against any other, perhaps better product. I installed the drivers, software, and got an update for it, and then hooked it up to my car. It would not connect on port 3 so I was thinking, "oh, here we go," but it connected quickly on port 4. Showed me everything my car was doing, gave me the code for my check engine light, and allowed me to clear it. Great! I recommend this for those of us who are not mechanics.
-- Feb 23 2012 (Posted on 7/11/2012)

Better than most handhelds

Review by

Eric Caskey [Amazon Review]

This software is great, much more info than most scan tools costing 4 times more. You won't be sorry. I have used it on my daughters Pontiac, my sons BMW, and several of my cars, no problems.
-- Dec 23rd, 2011 (Posted on 7/11/2012)

FANTASTIC TOOL!!!

Review by

Mechanic [Amazon Review]

Just received my OBDLink SX scan tool today and used it. It took me less than 10 minutes to install the software on my laptop and then plug it into my 2002 Ford. After reading the error code that informed me of an excessively lean fuel mixture, it took me perhaps 5 seconds to realize that the EGR valve was stuck open. I cleaned the valve and replaced it, after ensuring it was still functional, cleared the error code (YES, you can indeed clear error codes with this wonderful tool), and the car now runs great again.
The OBDwiz software seems flawless.I can't imagine a better, or easier to use, scan tool. It seems to me that Microsoft has a lot to learn from ScanTool.net in terms of a conscientious work ethic. WELL DONE, ScanTool.net!!! Thank you.
-- Dec 27th, 2011
(Posted on 7/11/2012)

Fast Customer Service

Review by

Luckytii7 [Amazon Review]

Easy product to work with and does as it should. plain and simple. Customer service on the other hand I'm very impressed with - I recently had to wipe my hard drive and everything on it so in turn the OBZWiz software was gone. After reinstalling the software I searched high and low for the activation code - no luck. One request to ScanTool.net with a copy of my invoice and within 5 minutes I had a new one at 8pm. Thanks ScanTool!
-- Oct 21, 2011
(Posted on 7/11/2012)

Great Product!

Review by

Brian Lawson [Amazon Review]

I bought this because my 2006 dodge Durango kept showing the check engine light. Instead of paying for someone else to check the engine codes, I wanted to do it myself. This scanner let me know that the O2 sensor was bad and I was able to fix it myself without needing a mechanic. AWESOME!
-- October 13, 2011 (Posted on 7/11/2012)
Items 1 to 20 of 25 total
You may also be interested in the following product(s)
Regular Price: $99.95
Special Price $79.95
Regular Price: $69.95
Special Price $49.95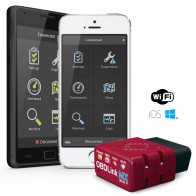 Regular Price: $79.95
Special Price $59.95