Details
Details
OBDLink® MX is a budget-priced, pocket-size Bluetooth OBD-II adapter for all OBD-II compliant vehicles (except hybrid or electric vehicles). It can be used as a diagnostic scan tool, trip computer, logger, and real-time performance monitor. OBDLink® MX surpassed performance in every competing Bluetooth OBD-II adapter, delivering 300% more data samples per second. Its BatterySaver™ sleep mode allows the adapter to stay plugged in continually, without draining the vehicle's battery.
Unlike the vast majority of Bluetooth OBD adapters, which constantly broadcast their presence and use an easy-to-guess 4-digit PIN, OBDLink® MX utilizes a unique multi-layered link security mechanism, eliminating the risk of unauthorized access. OBDLink MX's support of the de facto standard ELM327 command set, makes it compatible with tons of third-party OBD software and mobile apps.
OBDwiz and OBDLink app, included with OBDLink® MX, allow you to:
Turn off the check engine light, and erase stored diagnostic information
Read and erase stored, pending, and permanent trouble codes (both generic and manufacturer-specific)
Access freeze frame information
Display, graph, and log 90+ real-time parameters
Create custom digital dashboards
Measure and display fuel economy
And much more!
KEY FEATURES
Maximum vehicle coverage (Verify your vehicle is OBD-II compliant)
Supports SW-CAN & MS-CAN protocols
World's fastest Bluetooth OBD-II adapter
Small form factor
Hacker-proof
Read & clear 'Check Engine' light
Automatic sleep & wake-up
Free Android app & Windows diagnostic software
More 3rd party app & software options
Free firmware updates
Specifications
Additional Info
INTERFACE
Bluetooth
DEVICE WEIGHT
3 oz (80 g)
DIMENSIONS
1.97 x 1.77 x 0.91 in (51 x 45 x 23 mm)
SUPPORTS ALL OBD-II PROTOCOLS
Yes
SUPPORTS SINGLE-WIRE CAN (GMLAN)
Yes
SUPPORTS FORD MEDIUM-SPEED CAN (MS-CAN)
Yes
BLUETOOTH SPECIFICATIONS

Innovative 'Connect' button - requires physical access to enable Bluetooth pairing
Secure 128-bit data encryption
Class 1 Bluetooth v3.0 transmission (max range: ~ 262 ft)

OPERATING CURRENT
68 mA
BATTERYSAVER™ MODE
< 2 mA
OPERATING VOLTAGE
8-18V DC
OPERATING TEMPERATURE
-4º to 131º F (-20º to 55º C)
OPERATING HUMIDITY
10 to 85% (non-condensing)
MAXIMUM PARAMETER ID (PID) RATE
~100 PIDs/second for PC & Android
PACKAGE CONTENTS

OBDLink® MX Bluetooth adapter
Quick Start Guide
License key for OBDwiz software

WARRANTY
OBDLink® MX comes with an unconditional 90-day money-back guarantee, and a 3 year warranty.


Protocols
Legislated OBD protocols:

ISO 15765-4 (CAN 250/500 kbps, 11/29 bit)
ISO 14230-4 (Keyword Protocol 2000)
ISO 9141-2 (Asian, European, Chrysler)
SAE J1850 VPW (GM)
SAE J1850 PWM (Ford)

SAE J2411 Single-Wire CAN (SW-CAN) - GM proprietary network
Medium-Speed CAN (MS-CAN) - Ford proprietary network
Devices
Android
Smartphones (Android 2.2 and newer)
Tablets (Android 2.3.3 and newer)
Windows
Bluetooth-enabled PCs, Laptops, Netbooks (Windows XP SP2 and newer)
Phone (Windows Phone 8 and newer)
Tablets (Windows 8 and newer)
Blackberry
Smartphone (BB 10.0.0.0 and newer)
Tablet (BB 2.0.0.0 and newer)
Apple/iOS
Compare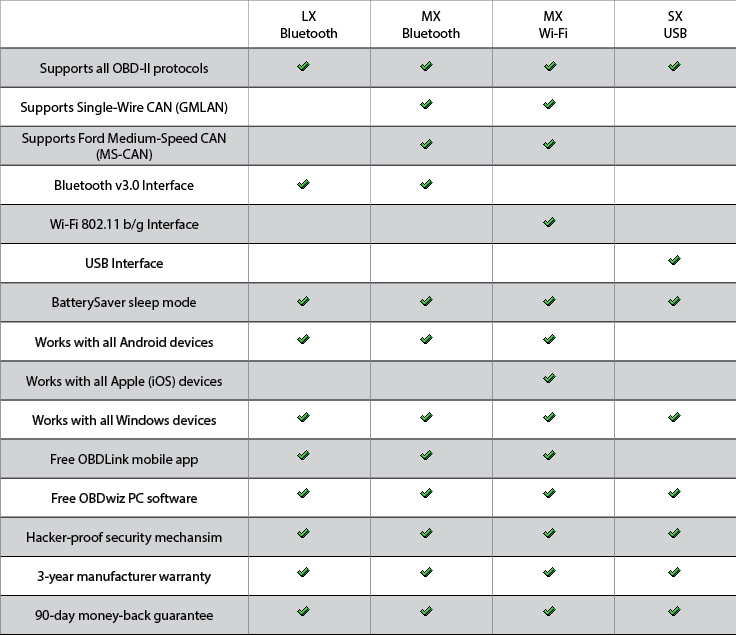 Documentation
Apps & Firmware
Support
Techinical support is offered through our Coummunity Forum which is monitored by ScanTool.net Team Engineers:
OBDLink® MX board.
Visit
OBDLink.com
for advanced support and recommended apps & software.
Related Items
Reviews
Customer Reviews (16)
1st tool out of my toolbox on a customers car/truck

Review by

Marty the Mobile Mechanic

Hi, I am a ASE Certified mobile mechanic in Santa Cruz Ca.for over 35 years. This OBDLink MX blue tooth OBD 2 reader is the 1st tool out of my pocket when diagnosing my customers cars or trucks. The scan is very fast and the PID view is so awesome with sometimes two screens full of precious information and "Freeze Frame views.
Sometimes my customers are in their offices/homes or out of town and I am able to do a quick "screen shot" of the Trouble Code screen and the PID screens, Then, I instantly text the OBDLink "screenshots' to their smart phones. So easy to explain ..."a picture is worth ten thousand words". In just a moments time, my customer sees this beautiful, professional text/screenshots of their "check engine light" problems on their smart phones.
OBDLink also features a "web lookup" that gives more information to "share" with the customer via texting.
I never need to bother them in their workplace/ (often I am out diagnosing the vehicle in an office parking lot)
The customer just looks at the screenshots/ information and usually gives me the go ahead to do the repair work (no "face to face" necessary) ..and they can refer to the OBDLink info as a permanent text "record" to show their husbands/partners or daughters text the info to their Dads for the "old man's" approval...
This saves a whole lot of paperwork...and a text is a legal document.!!
I trust the information OBDLink MX gives me and my customers....and they give me lots of business...based on this incredible scan "tool"
..Thank you OBDLink MX
. You guyz at OBDLink rock!!!!
Sincerely,
Marty Mechanic
martymechanic.com
-- Feb 8, 2014 5:39:06 PM (Posted on 2/8/2014)

OBDLink MX works great

Review by

Steve

Been using this for over a year now combined with the android app Torque to use as gauges, works awesome. I leave it plugged in 24/7 and have had no battery drain issues or connect issues. Two thumbs up!
-- Nov 15, 2013 12:42:15 PM (Posted on 11/15/2013)

obdlink

Review by

marcin

worked fine for one day then stopped. other scanners work on my cars so that's not it. The blue light for the blue tooth doesn't glow like it did looking to get this fixed with the company I'm sure they'll help me out. and yes it was great when it worked.
--Nov 12, 2013 1:43:18 PM (Posted on 11/12/2013)

The bluetooth you are having without bluetooth

Review by

Matt

Before buying make sure you contact ScanTool and find out if your device is supported. This will not work with Apple products. It will not work with some versions of Android/ Samsung. It will not work with T61 laptops. Looking for support? Forget it. They tell you to look at the forums. This product is a nice idea, too bad no customer service and that the product does not work with all Bluetooth...
May 21, 2013 4:12:58 PM

RESPONSE: MX Bluetooth does work with the vast majority of Android phones & tablets, although it doesn't work with the iOS.

We purposefully handle all of tech support from our forum because we find this to be more valuable. When customers have the similar questions, posting in a thread allows accessibility to answers any time of day or night. It is a wealth of information and our engineers are excellent at responding quickly to individual concerns. (Posted on 5/21/2013)

No support

Review by

Grumpy

If you email them for support and you get an automated response directing you to the forums for amazing answers to amazing issues by amazings techs. Sorry but I have had to much amazing bad advice already. No staff = no purchase.
-- May 6, 2013 12:21:54 PM

RESPONSE: We do not have automated email responses, our staff answers email multiple times per day. We handle all tech support from our forum purposefully to be of more help to the customer. Since there may be many customers with the same question, the forum allows you to run a search and have more access to information even when our offices are closed. (Posted on 5/6/2013)

Good but not that good.

Review by

Zenya

The native application has problems connecting to the OBD2 device. Doesn't "sleep" as advertised. Drained my battery completely.
-- Mar 24, 2013 8:58:52 AM (Posted on 3/24/2013)

Really happy with OBD Link

Review by

Steven

This makes my Peake Scan tool a joke.
With OBD Link I was able to see which precat 02 sensor was bad and why. Also found a bad t-stat on my Mini. It's already paid for itself 3 times over. I'll though out the POS Chinese adapters that I bought that worked only for a short time.
-- Mar 17, 2013 6:12:44 PM (Posted on 3/17/2013)

Amazing

Review by

James Millar

I'm a professional mechanic, looking for a small, handy device to supplement our Snap-On scanner

After extensive research, I chose the OBDLink MX. I needed something fast, compact, and reliable, and everything I found suggested this was the best.

Since receiving it, our full-function Snap-On scanner has stayed in its box - the OBDLink MX is faster and more convenient. I'm using it with Torque ( pro, but I started with Lite and it worked great).

ScanTool.net is great too - I bought the tool at full price, then they refunded me $50 because it went on sale before my payment cleared, That was far beyond my expectations, and has completely sold me on their customer service.

--Jan 20, 2013 11:38:51 AM (Posted on 1/20/2013)

Awesome

Review by

Kevin

Works greatly with android tablet built into my dash. Very fast data rates, very easy to use. Plugged it in and haven't had to remove it since.
-- Oct 7, 2012 6:08:49 PM (Posted on 10/7/2012)

the best

Review by

Lanceuae

Don't waste your time buying Chinese fakes. This is the real deal. I own a fj cruiser and it keeps up to its word by not killing the battery.
-- Sep 28, 2012 5:25:04 PM
(Posted on 9/28/2012)

Great device!

Review by

Scotty

Very fast communication, easy to pair with Android devices and easy to access using the Torque Pro software. I have now used this with many vehicles and am truly impressed; definitely worth the extra cost. I leave the device semi-permanently connected to my VW Golf R and enjoy viewing the statistics it can provide, whilst feeling safe in the knowledge that it has an auto-shutoff feature which keeps my battery from discharging. On a more practical front, I have used this to diagnose many faults with other vehicles with much success. Excellent product guys!
Sep 28, 2012 3:13:32 AM (Posted on 9/27/2012)

Time saver

Review by

Jackson's Garage

Great tool for on the spot diagnosis Bluetooth dongle from Asus has 300 ft. range. Need pro apps from Google but I'm sure they're coming. A real step saver this winter while I'm waiting for car to warm up.
-- Sep 27, 2012 1:44:58 PM (Posted on 9/27/2012)

Great item

Review by

FUN42

I've bought and used the cheaper OBDII units and they are fine if you only want standard and clitchy results. I came across ScanTool.net when looking for some tools and found the OBDLink MX and bought it with out even consideration of cost(fed up with poor quality products). It has been the best money I've ever spent. I use it every day on all different type's of cars for different reasons. And i couldn't be happier with it. A big thanks to the team at ScanTool.net
Sep 27, 2012 3:35:04 AM (Posted on 9/26/2012)

OBDLink MX + Torque = Bliss

Review by

ion

I bought the OBDLink a few years ago and didn't really use it that much because it couldn't read codes from all the modules in my car and it required a computer to connect with. For the most part, my old OBDLink just sat in a drawer collecting dust. I discovered the Torque Android app recently, and decided that I would try to add Bluetooth to my old OBDLink and keep it in my car. I contacted ScanTool.net to get Bluetooth added to my device, and while I was perusing their website I came across the OBDLink MX.

The OBDLink MX solves many of the issues that I would have had a hard time dealing with after adding Bluetooth to my old OBDLink. Namely, the MX goes to sleep automatically after you turn the car off (I would have had to manually unplug the old OBDLink), it supports an additional CAN protocol that my vehicle uses, it's small and has no wires that need hiding like my old OBDLink, it supports faster data rates than the OBDLink, and the Bluetooth protocol is far more secure, so I don't have to worry about some dude pulling up next to me and fiddling with my ECU.

ScanTool.net allowed me to trade in my old OBDLink for a significantly reduced price on the OBDLink MX. I made the swap and I couldn't be happier. I have the device connected 24/7 in my car and Torque Pro on my smartphone. I have a server running this guy's code (http://torque.ip.v6.me.uk/) at home and Torque will send logs from my car directly to my home server. I can then pull up any of my trip logs at home and views things like boost pressure, G-forces, speed, and mpg at any instant during my trip plotted with GPS coordinates on Google Maps. The OBDLink MX's speed allows me to get extremely impressive temporal resolution logging on over 15 different PIDs.

The OBDLink MX is a great piece of engineering, and ScanTool.net's service is excellent. I look forward to racing my car in the future and being able to go back and look at the nitty gritty details of what was going on with my car and where.
Aug 26, 2012 4:49:04 PM (Posted on 8/26/2012)

Well Built OBDII Interface!

Review by

AK [Amazon review]

This Bluetooth adapter, though a little expensive, works very well. It includes good instructions and a simple scan tool program. You can use with an android device such as a phone or tablet by installing an app. I use torque and It works very well. I really haven't had the time to try any of the other apps. The data stream from the adapter is very quick. Not quite real time like a professional scan tool, but very close. You can install the scan tool program that the tool comes with on a laptop with the included disc, or by downloading with the security key code. I have not yet had a chance to try the computer program with it. If you are a do-it-yourself-er you may be able to save a little money by using the OBD link to aid in diagnosing your vehicle. Just remember that it is not a substitute for a well trained and experienced diagnostic technician! Overall OBD link MX seems to be a very good and well built adapter. No problems whatsoever. Very compact and the firmware is upgradeable which is unusual for similar adapters. Although it is a little expensive compared to other adapters, I definitely recommend it.
-- Jan 31st, 2012 (Posted on 7/11/2012)

A Great Product

Review by

Jimmy [Amazon Review]

This Bluetooth powered OBD-II interface adapter has got to be one of the coolest products out there right now. It may be small in stature but it becomes a giant when coupled to a capable software solution such as the Android app "Torque Pro". I have used this device on three different occasions so far allowing me to successfully troubleshoot and clear those pesky "Check Engine" lights that won't get you past an emissions test. I was really impressed with the speed in which it retrieves the vehicle information including any freeze frame data available. Moreover, this tool is widely adaptable to function with other operating systems as well (i.e. Windows, Symbian). There is only one small problem I have ran into with this device. After you have poked around inside your vehicle's secret, dark digital bowels, monitored its sensors, fixed the problems and came away with a feeling like "YEAH!", it is too easy to forget unplug it and take it with you as there is no cord. But don't worry it will even shut itself off to avoid draining the vehicle battery.
-- Jan 9th, 2012 (Posted on 7/11/2012)
You may also be interested in the following product(s)