Details
Details
Everything you need to diagnose your vehicle's problems, in a single package.
Connect via Bluetooth up to 300ft
Turn off Check Engine Light
Check Emissions Readiness
Read and Erase Trouble Codes
Display real-time parameters
90 money back guarantee
Full three year warranty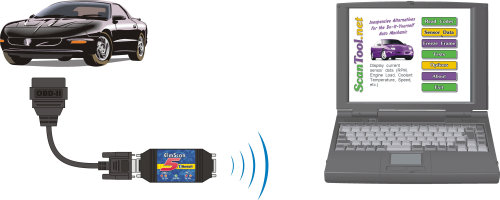 Package contents
ElmScan 5 Bluetooth unit
Serial Cable, (6 ft)
OBD-II Cable
USB to Bluetooth adapter
Quick Start guide
ScanTool.net Software CD
Features
ElmScan 5 Bluetooth is our latest PC-based scan tool. It supports all OBDII protocols and ships with a number of compatible programs.
Processor:
ELM327
OBDII Protocols:

ISO15765-4 (CAN)
ISO14230-4 (KWP2000)
ISO9141-2
J1850 VPW
J1850 PWM

Output protocol:
RS232 or Bluetooth
Baud rate:
9600 or 38400
Indicator LEDs:
OBD Tx/Rx, RS232 Tx/Rx, Power
Operating voltage:
12V, internal protection from short circuits/overvoltages
Dimensions:
3.75" x 1.7" (95 mm x 43 mm)
Description
The ElmScan 5 Bluetooth is a compact and versatile wireless scan tool with a range of up to 300 feet. Optionally, it can be connected to a PC's serial port using the supplied cable. The scan tool switches easily between wireless and wired modes by simply connecting the serial cable.
The ElmScan 5 Bluetooth works right out of the box and includes the user-friendly diagnostic software ScanTool.net v1.13. ScanTool.net will not only read and clear trouble codes, but also help you interpret the results by displaying the definition from its library of over 3000 generic OBDII codes. With the ability to display up to 72 different OBDII parameters in real-time, ScanTool.net is a powerful diagnostic tool.
The ElmScan 5 Bluetooth is compatible with a number of software applications. As a bonus, included is a host of free and trial applications (including open source) that allow you to explore the different software options available to get the job done.
Why buy ScanTool.net products?
The short answer is, when you buy from ScanTool.net, you get the most value for your money.
We were the first company on the market to offer inexpensive, sophisticated PC-based scan tools at a price anyone, not just the professional mechanics, can afford. It continues to be our mission to this day, and we believe we do it better than anybody else.
When you buy scan tools from ScanTool.net, you get:
Fast, inexpensive shipping. Most orders are shipped same day from our facility in Phoenix, Arizona.
Risk-free, hassle-free 90-day unconditional money back guarantee.
Best warranty in the industry. Your scan tool is covered by a 3-year material and labor warranty. If it fails, we will promptly repair or replace it free of charge.
Best customer service. If you have a question, just ask it on our Forum and receive your answer quickly:
ElmScan 5 Bluetooth board
Free, unlimited technical support. Our technical support personnel interacts directly with the design engineers, so you get the answers to even the most complicated questions, quickly. At the same time, the engineers use the feedback to further improve the products.
Highest quality. We ensure it by:

Continuously improving the design of our scan tools.
Using only genuine, high quality components.
Thorough, multi-phase testing.

Compatibility with the widest range of vehicles.
Support. See what other customers say about this tool, and ask questions on the Forum: ElmScan 5 Bluetooth board
We are proud to offer a complete line of PC-based scan tools, which cover all OBD-II compliant vehicles, and sell for under $150 (some for under $100). Thanks to their open architecture, our scan tools are compatible with a wide range of software, including free and open-source diagnostic programs, as well as different hardware platforms, including Palm- and PocketPC-powered devices.
Specifications
Additional Info
| | |
| --- | --- |
| INTERFACE | USB Port |
| SUPPORTS ALL OBD-II PROTOCOLS | Yes |
| SUPPORTS SINGLE-WIRE CAN (GMLAN) | Yes |
| SUPPORTS FORD MEDIUM-SPEED CAN (MS-CAN) | Yes |
| OPERATING CURRENT | No |
| BATTERYSAVER™ MODE | No |
| OPERATING TEMPERATURE | . |
| OPERATING VOLTAGE | . |
| OPERATING HUMIDITY | . |
| MAXIMUM PARAMETER ID (PID) RATE | No |
| PACKAGE CONTENTS | No |
| WARRANTY | No |
DocumentationApps & FirmwareReviews