OBDLink MX+, The OBD Scanner, Reinvented
This entry was posted on November 8, 2018 by ScanTool.net Team.
OBD Solutions unveiled OBDLink MX+, a one-of-a-kind wireless OBD adapter that transforms any iPhone, iPad, or Android device into a professional-grade diagnostic scan tool, trip computer, and real-time performance monitor capable of accessing manufacturer-specific vehicle data. With an MSRP of $99.95, OBDLink MX+ can be purchased from Amazon or here at the ScanTool.net web store beginning November 8th, 2018.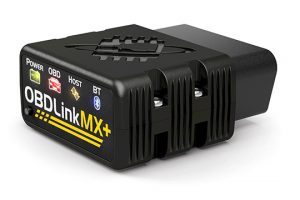 MORE COVERAGE + MORE DATA
OBDLink MX+ works with all 1996 model year and later OBD-II compliant vehicles. It is the only wireless iOS-compatible scan tool on the market that supports the proprietary GM-LAN and Ford MS-CAN vehicle networks, giving the user access to dozens of additional ECUs and thousands of manufacturer-specific trouble codes and parameters, including ABS, SRS, TPMS, AC, transmission temperature and more.
While there are other solutions capable of displaying real-time data, OBDLink MX+ is optimized for maximum throughput, delivering up to four times more data samples per second than the closest competitor. This translates into smoother gauges and graphs, and the ability to simultaneously display multiple parameters.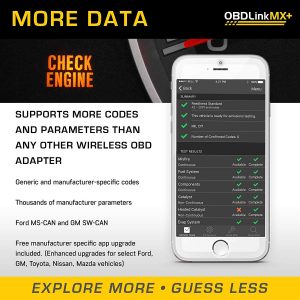 "OBDLink MX+ is not simply 'better' than competing OBD adapters — it annihilates them in every category: functionality, vehicle network coverage, third party app support, performance, and safety. We expect that in the near future, BlueDriver and FIXD will go the way of the dodo." 
-Vitaliy Maksimov -CEO, OBD Solutions LLC
MORE FEATURES + MORE PEACE OF MIND
OBDLink MX+ incorporates features not found in competing adapters that make it safe to leave plugged in: hacker-proof wireless security, overvoltage/load dump protection and ultra-low-current sleep mode. For added peace of mind, MX+ comes with free firmware upgrades, free technical support, a 90-day money-back guarantee, and an industry-leading 3-year warranty.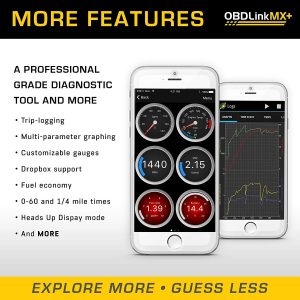 MORE APPS + MORE CHOICES
The OBDLink brand has become the OBD adapter of choice trusted by app developers, data providers, auto repair professionals and do-it-yourself mechanics.  For more information about OBDLink MX+ or other OBDLink scan tool products, visit http://www.OBDLink.com.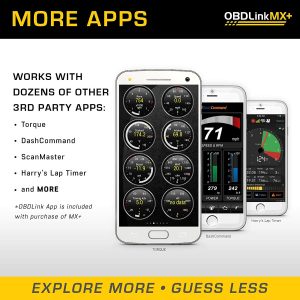 OBD Solutions, LLC is the leading provider of OBD-II diagnostics and monitoring solutions for both B2B and B2C applications.  Specializing in the design, engineering and manufacturing of OBD cables, diagnostic scanners, software, and development tools, the company has been serving clients - including Fortune 100 companies - from its headquarters in Phoenix, Arizona since 2002.  Applications include fleet management, vehicle emissions inspection and management, vehicle data collection, vehicle tracking, telematics, scan tool manufacturing, GPS devices, auto insurance and driver safety.