Details
Details
OBDLink® SX quickly and accurately diagnoses engine problems and accesses performance parameters for all OBD-II compliant vehicles (except hybrid or electric vehicles). Use the free OBDwiz software on any Windows laptop, netbook, or PC and you have a sophisticated, easy-to-use diagnostic system — for a small fraction of the cost of comparable standalone units!

OBDwiz, included with OBDLink® SX, allows you to:
Turn off the check engine light, and erase stored diagnostic information
Read and erase stored and pending trouble codes (both generic and manufacturer-specific)
Access freeze frame information
Display, graph, and log 90+ real-time parameters
Create custom digital dashboards
Measure and display fuel economy
And much more!
KEY FEATURES
Plug-and-play design
Maximum vehicle coverage (Verify your vehicle is OBD-II compliant)
Fastest USB OBD adapter
More 3rd party software options
Free firmware updates
Smart, keep-alive algorithm
Large CAN memory buffer
Specifications
Additional Info
INTERFACE
USB Port
DEVICE WEIGHT
3.4 oz (96.4 g)
DIMENSIONS
3.5 L x 1.78 W in (88.9 x 45.2 mm)
SUPPORTS ALL OBD-II PROTOCOLS
Yes
SUPPORTS SINGLE-WIRE CAN (GMLAN)
No
SUPPORTS FORD MEDIUM-SPEED CAN (MS-CAN)
No
USB SPECIFICATIONS

USB 2.0
Compatible with Windows Vista or higher

OPERATING CURRENT
8 mA
BATTERYSAVER™ MODE
< 1 mA
OPERATING VOLTAGE
8-18V DC
OPERATING TEMPERATURE
-4º to 131º F (-20º to 55º C)
OPERATING HUMIDITY
10 to 85% (non-condensing)
MAXIMUM PARAMETER ID (PID) RATE
~200 PIDs/second
PACKAGE CONTENTS
WARRANTY
OBDLink® SX comes with an unconditional 90-day money-back guarantee, and a 3 year warranty.


Protocols
Legislated OBD-II protocols:

ISO 15765-4 (CAN 250/500 kbps, 11/29 bit)
ISO 14230-4 (Keyword Protocol 2000)
ISO 9141-2 (Asian, European, Chrysler)
J1850 VPW (GM)
J1850 PWM (Ford)
Compatible Devices
Windows
PCs, Laptops, Tablets, & Netbooks (Windows Vista and newer) with USB connection
Android*
Smartphones & Tablets (Android 3.1 and newer)
Apple/iOS
*Device must be using Android 3.1 or higher and support USB host mode. A USB OTG ("On the Go") cable is required to connect OBDLink® SX (not included with purchase). Before purchasing SX for use with an Android, make sure phone or tablet meets these requirements.
Compare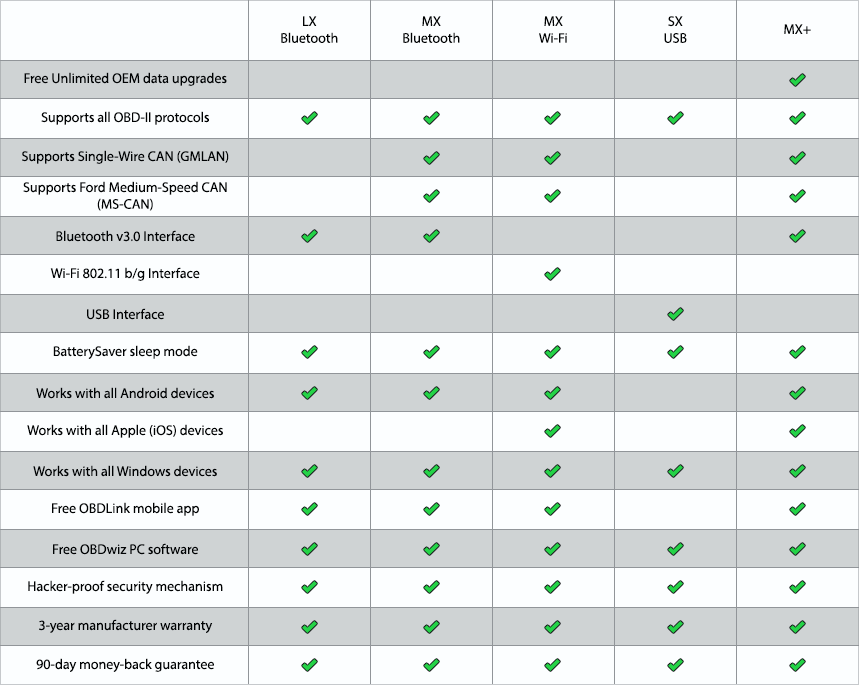 Documentation
Apps & FirmwareSupport
Technical support is offered through our Community Forum which is monitored by ScanTool.net Team Engineers:
OBDLink® SX board
.
Visit
OBDLink.com
for advanced support and recommended software.
Related Items
Reviews
Customer Reviews (46)
Very good value for the money, but manage your expectations. This is not a multi-hundred dollar scanning software system.

Review by

Mark Shindler [Amazon Review]

When considering this tool it's good to understand what it is, and what it isn't. I spent some time on their website studying the features of the software to make sure it covered my basic needs. I would recommend doing the same
In the package you get an instruction sheet that provides the website URL for downloading the software, as well as a registration key number that must be typed in.

For me the software installed and registered flawlessly. I also ran the software update utility under the 'help' menu selection and it found an update and installed it with no problems. I'm using windows 10.

I've used the tool to diagnose and repair problems on two vehicles so far. I have a far more expensive vagcom package for my VW but needed something for diagnosing some problems on a Ford, and the vagcom is not compatible with the Ford OBD2 communication protocol.

I feel this software tool provides a lot of value for it's price. I've not found anything that provides more features in a software package that doesn't cost considerably more money, and the same goes for the hand held units.
If my understanding is correct this software was once an open source project. It sort of seems that way because the overall layout of it's features is a bit 'ad hoc'.. It also has some interesting features like the console and raw data displays that were no doubt early features to help the developers understand how to build it. The benefit is that those utilities have been left in the package for us. There are some eye candy features that I don't personally find that useful like the Dashboard. You can do some mods to it but personally I would rather have seen more effort go into the strip chart function. The data logging feature is nice because you can collect and playback data in the software, and or export the data from the PIDS into a csv file for use in a spreadsheet or other software that uses csv files. One thing I would like to have seen done better is the strip charts. It would be nice to not only be able to chart more than two pids, but to perhaps overlay the variables in a chart. Again I'll reiterate that for the money the software is a great value. You'll just have to play around with the various displays and tools to see what works best for your purposes. I would rate it at 5 stars for the value, but put it at 4 stars to be more reasonable. (Posted on 2/10/2017)

One regret, I didn't buy it sooner!

Review by

Bonnie L. [Amazon Review]

This tool has come in so very handy. Checks the car, turns off that dreaded 'Check engine' light and gives you a log of errors the codes for which can be found online. Wonderful and so very economical. Not running to the dealer every $40 read out! Love it! (Posted on 1/24/2017)

Great hardware quality and great software functionality

Review by

Anon [Amazon Review]

Way better than I expected in terms of hardware quality, and software functionality. Been using it and loaning it to friends for several years, and works great on every vehicle. (Posted on 1/24/2017)

It reads the data just fine and connects just fine

Review by

Tim [Amazon Review]

So I bought this for a newer vehicle, 2016 Chevrolet Camaro SS. It reads the data just fine and connects just fine, you just have to fudge around a bit, do not download the drivers at all, you do not need them. Just your connection status is USB, Bluetooth, RS232 then your other connection status in Automatic. It will then start to cycle through and eventually connect to the ECU. From there it is game on.:)

BTW I am on Windows 10 and it works flawlessly. (Posted on 1/24/2017)

This worked well when used with FORScan on an F150 Ford Pickup

Review by

Amazon Customer [Amazon Review]

ScanTool 425801 OBDLink SX USB: Professional OBD-II Scan Tool for Windows. I paid $31.67 for mine, sold from Amazon.
This worked well for my F150. I was able to easily diagnose what was up before going to the dealership. Turns out that the trouble light on the dash only lights when there is a problem with emissions testing since inspections in certain places have to pass emissions testing in order to get an inspection sticker (yearly). I used FORScan with it and got a LOT of functionality out of it. FORScan.org. I did not try the software that came with the tool but still have the license that came in the package. Don't throw away the paper that comes in the bag with the cable. It has the license key on it for the software that comes with the tool. It is a reader that connects to the OBD connector in the car and then gets translated to USB. I used a laptop in order to make the connection. If you want a wireless solution, you need to look at something else. (Posted on 1/24/2017)

MacOS X

Review by

Eric [Amazon Review]

I have a MacBook 2010 with the latest software (MacOS X). Purchased the 'OBD Auto Doctor' software, and the USB ScanTool connected just fine. I did not use the free software that comes with USB cable, it is only for Windows.
Already used on both my cars (2003 GMC Yukon and a 2002 Nissan Frontier) and it connected to cars system, I only needed it for one (check engine light was on). I love the fact that I dont have to borrow someone else's scanner anymore, or go to the auto parts store and use theirs everytime I need one, which is quite often on my old cars. I recommend this USB ScanTool if you do your own car repairs at home... or would like to just reset car codes (like some reviewers). (Posted on 1/24/2017)

Four Stars

Review by

David S. [Amazon Review]

Gives me a peace of mind knowing I can trouble shoot my vehicle. (Posted on 11/16/2016)

Works great with FORScan software on Powerstroke 7.3 Diesels! Injector Buzz Test, CCT, all sensors, etc.

Review by

Lava Lamps [Amazon Review]

I bought it to use with 'FORScan' software on a 2000 Ford 7.3 Powerstroke diesel... after downloading drivers for Win 8/10, the combo works great!

This adapter has the proper chip & interface implementation with higher speed capabilities for performing real-time diagnostic functions.

FORScan is a software scanner for Ford, Mazda, Lincoln and Mercury vehicles, and a free download for Windows. It can do the 'Injector Buzz' and CCT (cylinder contribution) tests, which are specific to the 7.3 and 6.0 PCM. Furthermore, it will also monitor and display PerDel (Percent Deceleration of crankshaft) for each cylinder, which is extremely helpful for diagnosing a variety of issues with Ford Powerstroke engines.

The software can monitor all sensors in real-time. e.g. ICP, IPR, EOT, ECT, voltages, etc. It has logging, graphing (O-scope) and other features.

Windows 7/8/10 (plus Linux, Android OSX, iOS) drivers for this adapter:

ftdichip.com (look for 'D2XX' drivers)

FORScan diagnostic software:

forscan.org (Posted on 11/16/2016)

Perfect for DIY

Review by

J2daEWW [Amazon Review]

Very happy. Cord is good quality and the software is good enough for the DIY. Looking for higher quality software that doesn't cost an arm and a leg is a little hard, but this is a perfect start!

I am using an old 10 inch HP laptop with a small Intel mobile processor and works great. (Posted on 11/16/2016)

Worth it

Review by

T. Jefferson [Amazon Review]

Worth the extra money over the $5 ELM327 adapters. I went through several before finding that this one works well with Torque on my Pumpkin in dash Android Stereo. It's significantly faster than the Bluetooth connection i was using and I no longer have to suffer through re-pairing. (Posted on 11/16/2016)

I like the ability to know why the "check engine" light ...

Review by

Glenn Dawn [Amazon Review]

It works exactly as advertised and was delivered a day earlier than forecast. I have a Windows 10 HP laptop and it connected to the car with no problems. I like the ability to know why the "check engine" light comes on and the ability to reset it. I use it te connect to our 2008 Chrysler Town & Country van. (Posted on 11/16/2016)

Worked Where Bluetooth Failed

Review by

Dazedgonebye [Amazon Review]

Works as advertised and the software that comes along with it is easy enough to use.
That said, I wish the software had a feature to allow you to mark events as they occur.
I have an older car and the cheap bluetooth OBDII dongles were not able to communicate with my car's ECU. USB and a laptop may seem a clunky solution, but it works and it's cheap.
I would buy again. (Posted on 8/16/2016)

Highly recommend

Review by

willy [Amazon Review]

This is the best value for the $$$. Just download the for free software and enter the activation key that comes with the device and with that you have full access to all your vehicles codes and it is very easy to reset trouble codes. Another big plus is there is free online access to almost all the codes which could potentially save big $$$ whether you do the repairs or you bring it to a shop. (Posted on 8/16/2016)

Easy to use inexpensive scan tool

Review by

Joey Rodriguez [Amazon Review]

It met my expectations, I was able to use it with my Android phone and laptop pc. I used to use a Snap-on diagnostic scan tool years ago. I hope to upgrade the software in the future so I can utilize the full diagnostic capabilities to maintain my '03 Chevy Silverado 1500, as I plan on keeping the truck for many years. I am a retired heavy equipment mechanic that used to repair car's and pickups on the side. (Posted on 8/16/2016)

Works great on my 2015 Mazda

Review by

Doc161 [Amazon Review]

Works great on my 2015 Mazda! I have this plugged into my car-puter and love having extra gouges on the dash - screen. I have also used this to read and reset a few check engine lights on my car and some for friends. Sure beats paying a $80 diagnostic fee at a shop! (Posted on 8/16/2016)

MacBook Pro (Mid 2012) Windows 10

Review by

Amazon Customer [Amazon Review]

The thing works great so far. I use it in combination with a MacBook Pro (Mid 2012) running Windows 10. I had no issues installing or running the OBDWiz software that was included. So far I've tested the device with my 2008 Acura TSX, and my 99 Nissan Altima. The software does provide some data for one car and not the other, and vice versa, but does an adequate job of displaying the most relevant data for both cars (Fuel economy, MAF readings, O2 Sensor readings, etc.). Hope someone finds this review helpful. (Posted on 8/16/2016)

Inexpensive alternative to hand-held scanner. More bang for your buck than a $100+ hand held scanner.

Review by

Amazon Customer [Amazon Review]

Have a 2004 Lincoln Navigator. I kept getting the SES light. Using the hand-held code scanner I would get P0453 and looked it up on the internet. Never really found what I was looking for. Finally, I ordered this, installed the software on my laptop and saw what it said about the code. Not only did it tell me what was wrong, it also said that accompanying this problem would be the smell of gasoline fumes. That is exactly what was going on! I replaced the bad Fuel Tank Pressure sensor connected to the fuel fill return hose and used the software to clear the code. No more fuel smell and no more SES code. I have been using hand-held scanners for years and I know now that I have been doing it wrong. (Posted on 8/16/2016)

An Inexpensive OBD II scanner that Kix Azz over the Name Brands for the Price.

Review by

INONUTN [Amazon Review]

Wow! Totally Surprised!
I can write a whole long story , but i'll keep it Short. I'm a pretty Good Home Mechanic, Rebuilding Engines to Transmissions from the ground up. I have to say, this Product did more for teh price then my Well Known named brand product did. My daughter had her CEL come on, I have 2 different branded Scan Tools & None could even read the Vehicle (Not sure Why) brought to the shops and 3 others shop with different scan tools Still Error. So i took a chance and ordered 2 OBD II scan tools on Amazon, 1 was this & another was the BAFX. By surprise Both was able to communicated with the Vehicle. But only this product with its PC software was able to pull the Code. To my surprise it was a Transmission Code, and not the Engine Code. Out of curiosity i borrowed a friends OBD Bluetooth (Also Amazon) and it too could communicate, but not Pull the Code. As of now i might consider paying the little Extra $$ for the Software, since this device can communicate with all of my Vehicles. This is my opinion on this. Another thing i found that was Really nice is, when it pulled the Code, because i still have Wifi on my Laptop, it pulled up some Website to help guide me also with locations & Fixes, Really Nice. Well Done! . (Posted on 8/16/2016)

Works With Android

Review by

Amazon Customer [Amazon Review]

I purchased this product for use with my Google Nexus 7 2012 tablet. There is not much information online about whether or not this product will work with android but I can say that it does. I purchased the app Torque on the Google Play Store, set it to USB mode, and disabled slow connection mode and it connected to my car within seconds. I was able to read live Engine RPM, temp, boost, fuel flow, and much more. It will also display ECU fault codes on your tablet This product works great for Windows AND Android so if you are looking for a fast connection between an android tablet/phone and your car, this is the product for you. (Posted on 8/16/2016)

though the scanner itself may be just fine, I never got far enough in the setup ...

Review by

Kay [Amazon Review]

This one gets many, many stars. I had originally tried one of the iSaddle WIFI Wireless OBD2 scanner, and, though the scanner itself may be just fine, I never got far enough in the setup process to find out. This one, on the other hand, has simple, direct, and clear instructions. In fact, it only has 6 steps (effectively, it has 4 steps as two of them are "plug into car," and "turn car on"). The device is just as it appears in the pictures. It has a little LED light on it, and THE DIRECTIONS INDICATE WHAT THE VARIOUS LIGHT COLORS MEAN (double points!!). The instructions direct me to a website to get the drivers/software to run it, and even gives me the validation key for use (TRIPLE POINTS!!!). The wired USB connection ensures the device is actually talking to the computer. Don't get me wrong, I'm perfectly happy with wireless devices, but the plug-in nature coupled with the easy instruction manual makes this a good purchase for a DIY mechanic like me. I don't need a device that I have to first solve like a scrambled Rubik's cube, so I can fix my broken car (my car is broken, you really think I'm in the mood for a puzzle, iSaddle?).

I give this little guy 3 stars for the product, because it does what it is supposed to, and the other two stars are earned by the great, and simple instructions to get setup. Thank you for investing in ensuring that I'm focusing my diagnostic efforts towards my car, not my tools. (Posted on 8/16/2016)
You may also be interested in the following product(s)