Details
Details
OBDLink® MX is a pocket-size Wi-Fi OBD-II adapter for all OBD-II compliant vehicles (except hybrid or electric vehicles). It can be used as a diagnostic scan tool, trip computer, logger, and real-time performance monitor. Its BatterySaver™ sleep mode allows the adapter to stay plugged in continually, without draining the vehicle's battery.
OBDLink® MX Wi-Fi is the only OBD-II adapter that gives you the flexibility to easily connect directly to your iPhone or iPad, or to an existing Wi-Fi network. MX Wi-Fi features WPA2 with AES encryption, a sensible precaution to keep hackers from accessing your car's network. MX's support of the de facto standard ELM327 command set, makes it compatible with tons of third-party OBD software and mobile apps.
OBDwiz and OBDLink app, included with OBDLink MX, allow you to:
Turn off the check engine light, and erase stored diagnostic information
Read and erase stored, pending, and permanent trouble codes (both generic and manufacturer-specific)
Access freeze frame information
Display, graph, and log 90+ real-time parameters
Create custom digital dashboards
Measure and display fuel economy
And much more!
KEY FEATURES
Maximum vehicle coverage (Verify your vehicle is OBD-II compliant)
Supports SW-CAN & MS-CAN protocols
World's fastest Wi-Fi OBD-II adapter
Small form factor
Hacker-proof
Read & clear 'Check Engine' light
Automatic sleep & wake-up
Free iOS & Android app & Windows diagnostic software
More 3rd party app & software options
Free firmware updates
Specifications
Additional Info
INTERFACE
Wi-Fi
DEVICE WEIGHT
1.25 oz (35.44 g)
DIMENSIONS
1.97 x 1.77 x 0.91 in (50 x 45 x 23 mm)
SUPPORTS ALL OBD-II PROTOCOLS
Yes
SUPPORTS SINGLE-WIRE CAN (GMLAN)
Yes
SUPPORTS FORD MEDIUM-SPEED CAN (MS-CAN)
Yes
WI-FI SPECIFICATIONS

Wireless module: 802.11b/g
Encryption: AES128

OPERATING CURRENT
~80 mA
BATTERYSAVER™ MODE
< 10 mA
OPERATING VOLTAGE
8-18V DC
OPERATING TEMPERATURE
-4º to 131º F (-20º to 55º C)
OPERATING HUMIDITY
10 to 85% (non-condensing)
MAXIMUM PARAMETER ID (PID) RATE
~80 PIDs/second for Windows PC, ~60 PIDs/second for iOS, & ~70 PIDs/second for Android
PACKAGE CONTENTS

OBDLink® MX Wi-Fi adapter
Quick Start Guide
License key for OBDwiz software

WARRANTY
OBDLink® MX Wi-Fi comes with an unconditional 90-day money-back guarantee, and a 3 year warranty.


Protocols
Legislated OBD protocols:

ISO 15765-4 (CAN 250/500 kbps, 11/29 bit)
ISO 14230-4 (Keyword Protocol 2000)
ISO 9141-2 (Asian, European, Chrysler)
SAE J1850 VPW (GM)
SAE J1850 PWM (Ford)

SAE J2411 Single-Wire CAN (SW-CAN) - GM proprietary network
Medium-Speed CAN (MS-CAN) - Ford proprietary network
Compatible Devices
OBDLink® MX Wi-Fi can work with any Wi-Fi-enabled smart phone, tablet, or PC. Officially supported platforms (this means, we verified that MX Wi-Fi works with apps running under these operating systems) include:
Apple/iOS
iOS 7 and newer (iPhone, iPad & iPod Touch)
Android
Smartphones (Android 2.2 and newer)
Tablets (Android 2.3.3 and newer)
Windows
Wi-Fi-enabled PCs, Laptops, Netbooks (Windows XP SP2 and newer)
Phone (Windows Phone 8 and newer)
Tablets (Windows 8 and newer)
Given MX's open architecture and strict adherence to the 802.11 standard, we anticipate apps to be developed for other platforms as well. In fact, compatible third party applications are already popping up for several other platforms, including Blackberry and Linux.
Compare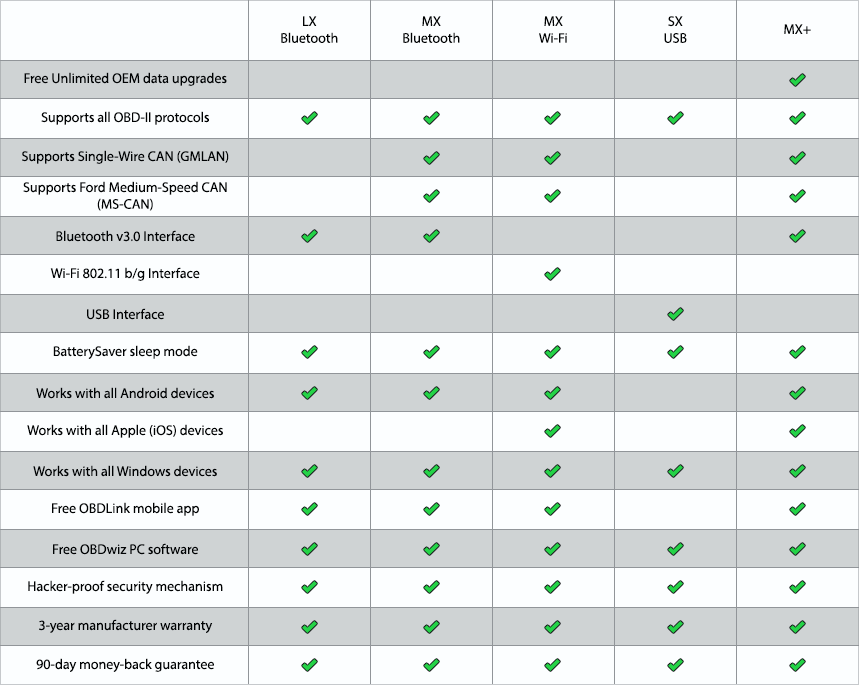 DocumentationApps & FirmwareSupport
Technical support is offered through our Community Forum which is monitored by ScanTool.net Team Engineers:
OBDLink® MX Wi-Fi board.
Visit
OBDLink.com
for advanced support and recommended apps & software.
Reviews