Details
Details
As-shipped, the kit is a fully functioning OBD-II to USB interface that supports all OBD-II protocols and works with any ELM327-compatible software.

The Interconnect Board features UART and USB interfaces, an OBD breakout with access to all all 16 OBD port lines, three module slots with breakout headers, and a number of configuration jumpers and test points.

The unique modular design offers considerable flexibility, allowing engineers to quickly evaluate, prototype, and verify the major circuit blocks.
Features
Modular design

Interconnect Board
STN Breakout Module
OBD Driver Module
Power Module

ELM327-compatible command set
Breakout headers for all module pins
16-pin OBD breakout header
UART and USB interfaces (FT232RL/Virtual COM Port)
Test points for measuring voltage
Tap points for measuring current
Configurable sleep/wakeup functionality
Can be powered from OBD Port, or the optional 12VDC power supply
Connection Diagram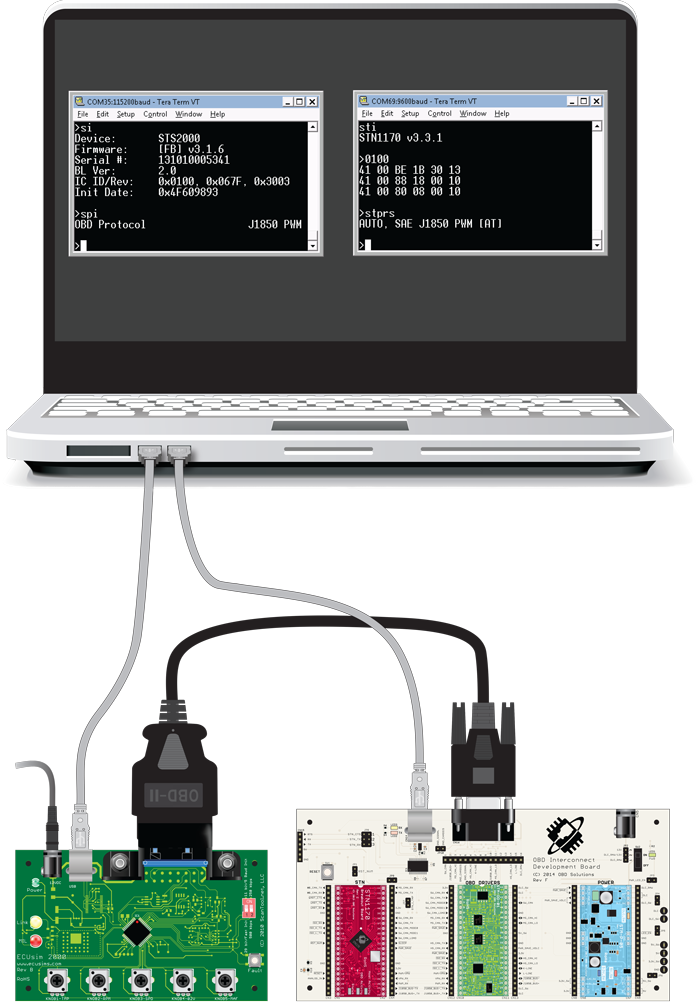 Shown with optional ECUsim 2000 and laptop (not included). For more information see the Lab Manual
User Interface Diagram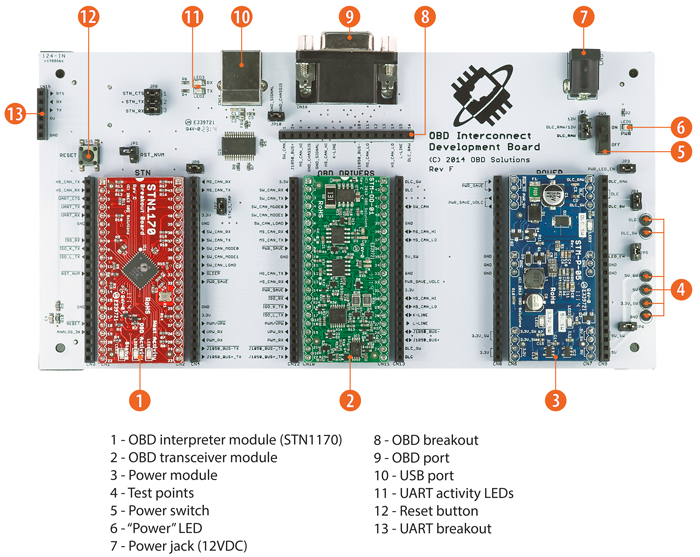 Specifications
Additional Info
DEVICE WEIGHT
5 oz (140 g)
DIMENSIONS
7.4 x 4.0 x 1.0 in (187.9 x 102.6 x 26.2 mm)
PACKAGE CONTENTS

OBD Interconnect Development Board with 3 modules
Cable, J1962M to DB15 (HI-DM)
USB Cable, 6ft
Protocols
Support for all legislated OBD-II protocols:
SAE J1850 PWM (Ford)
SAE J1850 VPW (GM)
ISO 9141-2 (Asian, European, Chrysler)
ISO 14230-4 (Keyword Protocol 2000)
ISO 15765-4 (CAN 250/500 kbps, 11/29 bit)
Support for non-legislated OBD protocols:
ISO 11898 (raw CAN)
SAE J1939 (cable not supplied - does not support 24 Volts)
SAE J2411 Single-Wire CAN (SW-CAN) - GM proprietary network
Medium-Speed CAN (MS-CAN) - Ford proprietary network
DocumentationApps & FirmwareRelated Items
Reviews